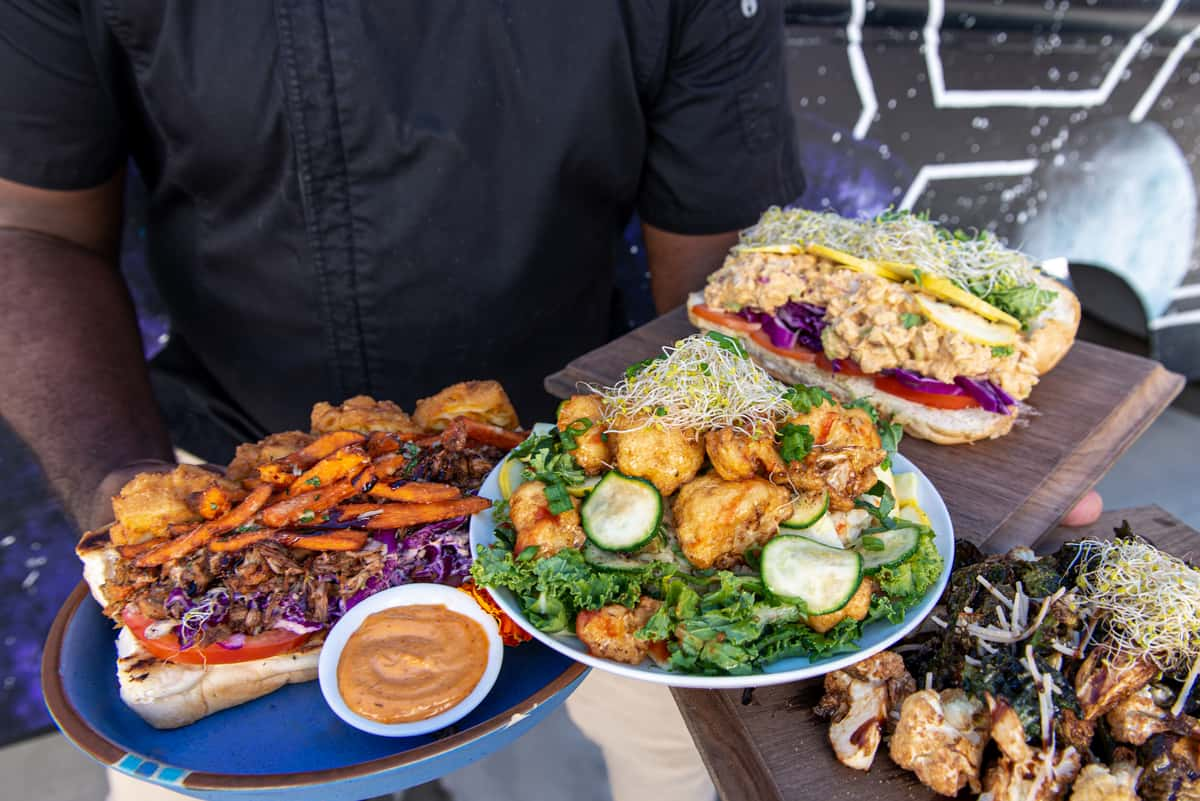 Rollin' Roots
Food Truck Menu
Be the First to Know!
Receive updates on special events, new menu items, menu reviews, and more!
Main
Sandos
Not the sandwiches that momma put in your lunch bag, but you wish they were. All Sandos contain gluten (from the bread), choose fries, a bowl, or a salad to make your entrée gluten friendly.
Daikon Love
$14Cant Banh Mi Love, But You Can Buy This Sando. Our Beef**, Layered Pickled Veggies, Mint, Cilantro, Chipotle Mayo, Sriracha, Liquid Coconut Aminos, Teriyaki, Fries, Slaw, Jalapeño, Tomatoes 
Add on:
Avocado
Jalapeno
Extra Sauce

You may choose to substitute Sweet Potato fries!
Cash Discount Available when you order at the Truck!
Actual cash discount, not like places that say you get a cash discount and then just don't charge you taxes. 
We prep items based on demand, sometimes that fluctuates unexpectedly, therefore we may run out of items with our limited storage on the truck.
What in Our "meat"
(You won't even notice!!)

Shrimp* → Hearts of palm

Beef** → Mix of pulled oats, and mushroom

Chikun*** → Oyster mushrooms 

Tuna**** → Garbanzo beans (specials)

Fish***** → Banana blossom (specials)

We tend to stay away from processed vegan meat alternatives and instead opt for whole vegetables and treat them as their non-vegan counterpart.
Allergies
I know that I deep fry the hell out of everything, but I care about your health... a little.
Gluten
Usually, the only items on the truck that contain gluten, are our breads. Everything that goes into the fryer, and everything else we serve, is gluten free. That includes our amazing mac n cheese balls. If you have celiac, then you must let us know so that we can clean the grill and surfaces for any traces of gluten and reduce the risk of a reaction!
Soy
Everything is soy free!! Occasionally we will have a special with a soy based product, but our main menu is completely soy free.
Nuts
All of our items are completely nut free, some items may be processed in the same facilities as nuts, or may come into contact with them on the way to our truck, but we do not use any nuts at all in our menu.
Other
We will gladly accommodate for any other allergy or dietary need within our reach. Please allow extra time to prepare modified dietary items.